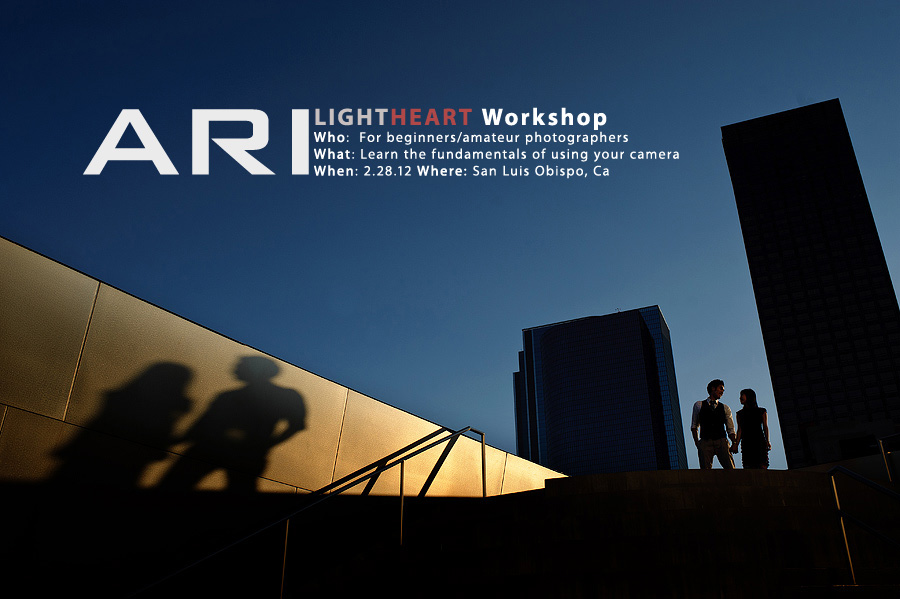 Who: Wedding photography workshop with Ari Simphoukham for beginners and amateur photographers.
What: This will be a one day beginners workshop for people looking to improve their photography skills and have a better understanding of the functions of their camera.
When: February 28, 2012.
Where: San Luis Obispo, Ca and live shooting in Pismo Beach, Ca.
Why: I'm holding this workshop for the people who are interested in improving their photography skills. I've been getting tons of request from people who just got a new SLR camera and don't know how to use it. I will be teaching you the basics about your camera and how you can utilize the different modes on your camera to take great photos.
I will help you:
* Be in control of your camera by shooting in manual mode
* Understand exposure and how to control it
* Improve your compositions
* Understand light and the different types of light and how you can control it to improve your photos.
* How I edit my photos and process them on Lightroom and Photoshop.
*We will go out to shot and there will be an actual couple there to model for us.
How: The cost of admission is only a donation of at least $50 to the charity of your choice. All you have to do is show me proof of your donation. You will also have to give me a fully refundable deposit of $50. The full $50 will be retured to you at the workshop. This is to let me know that you are serious about coming to learn. If you do not show up, your money will go into my piggy bank.
Sign up here: http://lightheartworkshop-eorg.eventbrite.com/
Photographers of all skill level are welcomed and I will be more than happy to answer any questions you may have, but the material I'll be covering will be focused on the basis. In order to be effective, I will be limiting this workshop to only 15 participants. Hope to see you there!